DON'T PANIC!!!


I realize that there are a few of you whom may have hastily hit this link because I've met you one way or another through an ad on the Internet, but this isn't about you, per se. You can calm down, enjoy, and I encourage you to contribute....



What this IS:

I was following links for the Bizarre News of the World, and found one to nerve.com for a funny ad there, and on a whim posted an ad myself. I wasn't sure what to expect; I last tried this about four years ago, and with pictures that reflected a more corporate haircut (well, at least for ME), I was apparently completely irresistable to overweight redheads with small children, personality disorders, and a definite tendency NOT to read the ad copy.

I've been VERY pleasantly surprised this time around; I've met a lot of really nice, intelligent, interesting, together women and although there's hasn't been a "Love Connection" made, it's been fun.

There are of course, the funny/strange/bizarre ads you run across, but besides that, some of the best creative writings going on in the world are like diamonds waiting to be encountered among the rocks in the landscape, and a latter day poetic form that is fundamentally High Art. I'll give examples below, and encourage you readers to contribute. PLEASE, no being catty, vicious or unkind in general....

Funny/Bizarre Example

Most of these sites need to change their approach, or add LOTS of additional radio buttons for you to better explain what/who you are, or what/who you're looking for. I wound up getting a reply from one site that included this picture: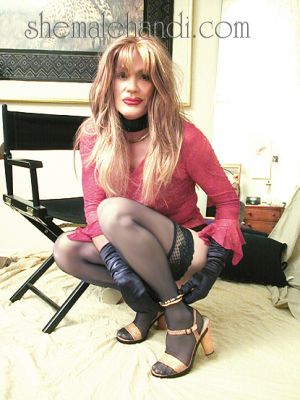 Apparently we need a radio button for "anatomically female"! I did write her back to try to explain that it's just a bit gauche to wear brown mules with black silk stockings, but based on her reply she is challenged by the nuance...

Simply a Great Ad Example

Here is cut'n'pasted copy to the best ad I've read in the last couple of weeks:

Last great book I read:
Orbiting the Giant Hairball:
Most humbling moment:
Hmmm. I have so many to choose from.
Favorite on-screen sex scene:
The Lover. The whole thing. Ouch.
Celebrity I resemble most:
Drunks think I look like Kirstie Alley.
Best (or worst) lie I've ever told:
That I was Kirstie Alley, so I could get into a bar in Tijuana for free. I saved $2!
If I could be anywhere at the moment:
In Key West playing pool.
Song or album that puts me in the mood:
Kind of Blue - Miles Davis
The five items I can't live without:
My three dogs
My sense of humor
My beige convertible wonderbra
Fill in the blanks:
smart is sexy; confident is sexier
In my bedroom, you'll find:
A phone book
Stationery
The week's shoes
Enough space for the right guy
WHY YOU SHOULD GET TO KNOW ME:
I'm fun
I'm funny
I'm smart
I'm stable
I have my own mink and my own chain saw.
Low miles, travel light.
MORE ABOUT WHAT I AM LOOKING FOR:
Cigar smoking, bourbon drinking, shaggy haired tortured artistic type. Let me be your muse.






Amusing Anecdote Example

I was foolish enough to think that the above "Great Ad" example was written specifically at me; I still half-way think it may have been someone who knew me... I HAD to send a reply, and got an almost immediate response that, among other things, indicated that (we'll call her "Kim") was new in town, was supposed to be meeting a friend in a bar down in Deep Ellum in Dallas, and DARED me to come meet her...technically I'm more than well qualified in the "shaggy haired tortured artistic type" dept.

Of course, there was no way I could possibly resist that, so off I went. Well, for those of you that don't know Dallas, Deep Ellum is a neighborhood close to downtown, full of bars and a few restaurants; the theme would be predominantly "alternative"/punk/twenty-something. I had absolutely no idea that there was an Uber-redneck cowboy country bar tucked away there.

This place was a scaled down, condensed version of the "Good Old Boys" bar from the Blues Brothers movie, to give you a vision if you've never been in such an establishment. So I'm sitting there like a dumb-ass, pulling out my tablet PC and getting wireless, tapping out an email to her in case she hadn't left, "Did you know this place is kind of seriously C&W", etc., etc., etc.

I was of course the only "hippie" in the place, but luckily the past six months of working out an hour a day and being 6'2" paid off, as I'm now noticibly muscular; had I not been some of the bubbas might have made me have to fight my way out of the place. A number of people were further amazed by my tiny tablet PC, but then again it is a bright shiny object, and these girls: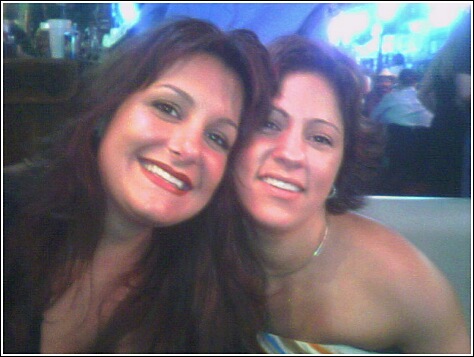 might have eventually gotten drunk enough to "try a hippie" had I been able to stomach the live entertainment - "Opie Hendrix" (don't ask, it's more alarming that you could ever possibly fathom) until closing time.

While I was patiently waiting, "looking funny" back at the wahoos, I started noticing that every few minutes someone that didn't quite fit in was strolling in, looking very confused. We had a black guy, dressed sort of retro Superfly/Willie the Pimp, who was immediately terrified as the wahoos started pulling their hoods out of lockers, causing him to hurriedly leave, and an assortment of "alternative rockers", Skater Boy, very obvious computer geeks, and a guy dressed to the 80's disco John Travolta/Saturday Night Fever nines...

I stopped lookiing for "Kirstie Alley" and saying Hail Marys that it was the original "Cheers" version and not the bloated Pier One commercial one with makeup liberally applied with a garden trowel, and started looking for someone giggling hysterically. I never did see such, but then again they might have been giggling hysterically from across the street... I emailed them back with kudos for pulling the best practical joke that has been pulled on me for ten years almost to the day, but still haven't ever gotten a reply. If I wind up on some new stupid reality show this fall, I hereby demand scale plus a SAG card!





Pure Unadulterated 21st Century Poetry/High Art Example

This is the most interesting and sometimes amazing beautiful category. Much as Eric Clapton once said that he wasn't really the best guitarist it the world, and that that would be some guy no one would ever hear of playing for himself in his basement in Cleveland, some of the best, and often tortured/inspired/artful poetry is being written in the guise of Internet personal ads.

I highly suspect that one might be more likely to find such when "seeking a woman", but all you women out there seeking men should email me links to ads or cut'n'pasted copy that you run across; this could turn into a whole other project, like I don't have enough already... Here's an one example that is the quickest for me to find:

Last great book I read
by my bedside:
dictionary of symbols
molly ivins can't say that, can she?
siddhartha, h. hesse (auf Deutsch )
consilience, the unity of knowledge, e.o. wilson

Most humbling moment:
when i sometimes forget to notice (and nurture) the beauty in this world

Favorite on-screen sex scene:
the screen of a screaming imagination- the flicker of fun, the laugh of love.

If I could be anywhere at the moment:
a meander
a museum
a mountain
this moment now
someplace here

Song or album that puts me in the mood
the Long Play version of you that spins the turntable of my desire

The five items I can't live without:
wind in my hair
bare feet
a good tickle
a great hug
a swimming hole

Fill in the blanks:
sweating is sexy; smelling you sweat is sexier

In my bedroom, you'll find:
a string of lights
a song of silly
a dance of hope
a massage that will make you melt
a view of the universe

WHY YOU SHOULD GET TO KNOW ME:
to make belief, have a world of fun, discover newness, protect soft, share awe, nurture whole, rally adventure, be bliss, make the difference, touch the why, be the sky. and to dance our socks off and shake our naked butts under a blanket of stars.

MORE ABOUT WHAT I AM LOOKING FOR :
an indoor/outdoor adventurer. one who shares the need to create. someone with whom to build a 'sustainable future'- (global, local, intrapersonal). one with whom to laugh til our sides ache. a person who enjoys books, art, travel, indie film, music. and magic.

That's as beautiful as anything I've ever read, more so than most "poetry"; she's never replied, but if she did would it be as perfect???




Well I guess everyone should have an idea by now, I encourage everyone to send in things from the bizarre to the beautiful; I'll categorize them into separate sections/pages as submissions and time permits...





All website contents copyright 2003 by jackthehack.com, unless otherwise noted.